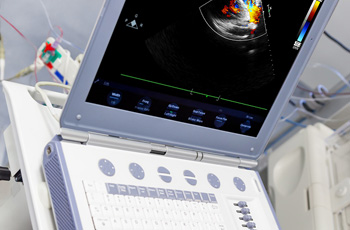 Ultrasound
Appointment required
Make arrangements for children
Care card required
Requisition required
Ultrasound imaging, also called ultrasound scanning or sonography, involves the use of a small transducer (probe) and ultrasound gel to expose the body to high-frequency sound waves. Ultrasound is safe and painless, and produces pictures of the inside of the body using sound waves. Ultrasound examinations do not use ionizing radiation (as used in x-rays). Because ultrasound images are captured in real-time, they can show the structure and movement of the body's internal organs, as well as blood flowing through blood vessels. Ultrasound is a useful way of examining many of the body's internal organs.
Brooke Radiology performs the following ultrasound examinations:
Abdominal: liver, gallbladder, spleen, pancreas
Renal: kidneys, bladder, prostate
Pelvic: Bladder, uterus, ovaries
Scrotal (testicular)
Thyroid, neck, parotid glands
Breast (please see information under Diagnostic Breast Imaging)
Abdominal wall, small parts
All ultrasound examinations require a referral from your doctor and a completed requisition.
Appointments are required for all ultrasound exams. For all ultrasound exams other than breast, you or your doctor can call to book an appointment.
Kingsway: 604-434-1345 Richmond: 604-278-9151 East Hastings: 604-299-2666
If you are having an ultrasound of your breast your doctor must fax the requisition and we will contact you with an appointment.
Please bring your care card and your completed requisition with you at the time of your examination.
Please make arrangements for small children as we cannot allow them into the exam room with you and we cannot look after them while you are having your exam.